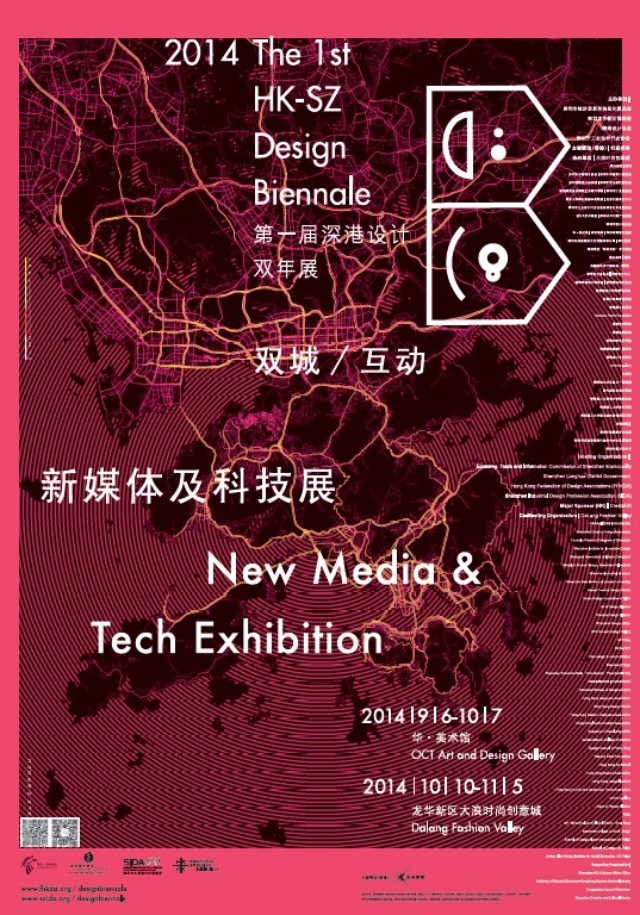 策展人言Curatorial Statement
双城/互动DynamiCity

近年来以新媒体及科技为本的创作渐成主流,后数码时代演义是其中的催化剂。现今的社会已经转化成由信息带动的数据网络,每毫秒有着极速的更新及不断进化。开源码平台是当下重要的产物,其冒起对创作过程有相当深远的影响。这个集体创意的思维模式正在挑战传统单一作者或个人工艺的创作本质。与此同时,我们正在经历数字形构(第3次工业革命)及超人类主义的年代,一些制造技术如三维印刷、自由编织和数控工具机,又或是穿戴式的装置如神经传感器及外骨骼机械,于所有领域上都能提升生活水平。总括,这些创新技术模糊了虚拟及真实的边界,让艺术与科技的定义变成不能分割。这次我欣喜新媒体的创作能在第一届深港设计双年展得以推动,以独立的形式展示。此展览定题为DynamiCity,中间使用大写的字母是希望可引导大家关注城市的动态性,就像海报及入口形象墙的艺术方向,根据两地不同的数据去衍生出视觉效果。展馆中的作品都展现着创作者们精炼打造的表现方式,希望这次可以为观众打开崭新的体验及探讨这两地的动态。

New Media & Technology based creation go mainstream in recent years, the post-digital era is the catalyst in between. Our society has been transformed into an information driven network where contains rapidly changing of data, keep evolving in millisecond. Rise of the open source platform is also a very important movement undergoing the creative process. The collective collaboration is challenging the tradition mode of single authorship or craftsmanship creation. At the same time, we are going through the age of digital fabrication and transhumanism; the fabtech like 3D printing, freeform weaving and CNC milling, wearable device like neuro-sensing and exoskeleton etc… which are advancing us in all aspects. All in all, these innovations blurred the boundary between virtual and reality. The definition of Art and Science are becoming inseparable. It is my pleasure to see the new media creation is being advocated for the 1st HK-SZ Design Biennale. I came up with the theme DynamiCity, with the letter C in capital; I hope to bring in attention to the urban dynamics in the City, like the poster and motion wall key art direction are based on the data of two cities to create visualization. The selected artworks are well presenting how new expression have been crafted. I wish this exhibition could open the door for cutting-edge experience and thought this to look into 2 cities.


策展人
张瀚谦(香港)
颜其锋(深圳)

承办机构
香港设计总会(香港)
XEX(香港)
深圳市创新设计研究院(深圳)
湖南大学媒体实验室(深圳)
宝安创意设计中心(深圳)

Curators
Chris Cheung Hon Him (Hong Kong)
Yan Qifeng (Shenzhen)

Event Organizers
Hong Kong Federation of Design Associations (Hong Kong)
XEX (Hong Kong)
Shenzhen Institute for Innovative Design (Shenzhen)
Shenzhen New Media Lab, Hunan University (Shenzhen)
Baoan Creative Design Center (Shenzhen)

香港:
Squiggle
——朱力行 Henry Chu
Squiggle将iPad转换为一部虚拟乐器,用家可在iPad上绘画出不同长度方向的弦线,而弦线的长度会影响其弹奏出来的高音与低音,而每条弦线的颜色亦会有所不同。用家再绘画出自己独有的图像时,亦同时创作出自己独有的乐器。
作品曾于2011年,再现代艺术博物馆(MoMA)的"Talk to me"展览内展出。
Squiggle transforms the iPad into a virtual, many-stringed instrument. Users draw a series of lines in any direction (horizontal, vertical, diagonal); the note each line will sound is determined by its length, and each new line is a different color. When the composition is ready, the user simply tilts up the iPad and strums the lines, which vibrate like rubber bands.
Squiggle was exhibited in MoMA, "Talk to Me: Design and the Communication between People and Objects" on 2011.



Spinning Dress
——朱力行 Henry Chu
摇摇裙是 Henry 为纸艺展览而创作的动态雕塑。"概念来自女儿的玩具 Hippie Stick,当旋转时变化出优美的型态,我想可不可以做一个装置去表现法国的时装典雅同时又有无穷的变化。于是便有了摇摇裙的概念。" – Henry

Spinning Dress is a kinetic sculpture Henry created for the Fête en Papier exhibition.
"The idea comes from my daughter's Hippie Stick toy – it transforms into beautiful forms while spinning at different speeds. I want to create an installation to portray the elegance and diverse transformations of the French fashion, hence the idea of Spinning dress" – Henry





Maiden and Hare
——朱力行 Henry Chu
成语有云【静如处子,动如脱兔】,出自《孙子兵法》,形容行军等待时机时的沉静和行动时的迅速。不动时是极慢,动时是极快。观众坐在椅子上,椅子前方有一动能立体摄影机拍摄着观众,根据其动静显示出【处子】和【脱兔】两种形态的视像。

In The Art of War, Sun Tzu uses the phrase "be as calm as a maiden, and as quick as a scurrying hare" to describe an army:silent and unmoving while waiting for the time to strike;swift in action in the right moment. Staying still, their movements are hardly noticeable, but when they act, they are extremely quick.
When the audience sits in the chair, their upper body will be captured by a kinect 3D sensor that interprets their gestures to visualize the idea of the 'maiden' and the 'hare'.



木制挂灯LAMP001
—— 林欣杰 Keith Lam

此产品以工作坊形式发售。学院由木件接合,电线接驳至调光器焊接,完全木制挂灯。
This product comes with workshop. Participant build this from assembling wooden parts, cabling to soldering of dimmer.




木制胆机
Phone Amplifier
—— 林欣杰 Keith Lam

最后测试中,即将发售,2014秋季发布。左右声道音频(RCA)及3.5mm输出,左右声道音频(RCA)输入,四真空管设计。
Final Testing in Progress, available soon, to be announced by autumn 2014. Stereo (RCA) and 3.5mm output, Stereo (RCA)input, 4 diodes design.



黑胶唱机Turntable
—— 林欣杰 Keith Lam

旧媒体的类比质感总是有一种亲切的温暖。当我们轻易地享受数位的便利而带来完整的声音,黑胶唱片的不完美让人重温人文的质感。黑胶唱机结合手造风和数位制造,精准的木工切割结合类比的黑胶唱盘,把音乐的原始感和人文连结,用手把唱针放在音乐盘之上,复兴音乐的感知。

The analog texture of old media player gives a human touch feeling to user. While we are having zero-defect digital music because of improving technology, the imperfectness of vinyl record let us revisit the texture of human touch. Turntable mixtures handcrafting and digital fabrication, precise cutting on wood mixed with turntable, brings music back to origin. Putting the needle on the record by hand, touching in sense of music reborn.



Vertebra Series: Adolescence 脊系列:趋于成熟
—— 林欣杰 Keith Lam

脊椎动物的特征是身体背部都有一连串的脊柱,它是由一块块的脊椎骨串起,是目前世界上体型最大和最晚演化出来的一群生物。脊系列作品以纸为基本材料,纸兼具了柔性与刚性的特质,能够创造出结构稳定连接的脊椎骨同时又能展现柔软近似植物叶片的样态,当这两种特性组合在一起变体生物,形成一种奇幻的脊椎生物,像动物又像植物。当第一块脊椎骨与延伸的骨叶被创造出来成为基本的元素时,生命的创造变成一种组合,秩序与非秩序的,创造的过程中产生出大量怪诞、丑陋、瘫软、非对称的实验体,到底什么是完美的生物原型?
The feature of vertebrates is the vertebral column on their back constitutes of a segmented series of vertebrae. Vertebrate holds the largest living organisms on earth and to be the most advanced group of creatures in evolution. The basic material of the Vertebra series is paper, which possesses both the quality of softness and solidity, creating the vertebral structure that is capable of providing stable attachments and to present the softness of plant leaves simultaneously. The two characters come together to form a mysterious vertebral creature that is both animal-liked and plant-liked. When the fist vertebrae and its extended boned-leaf were created as the basic element, the creation of life became a combination of ordered and unordered, bringing upon abundant of awkward, ugly, collapsed and unsymmetrical experimental forms throughout the creating process. What is the perfect prototype of creature?



Chance Cinematheque
—— XEX

机遇是福鲁克萨斯(Fluxus)—激浪派的重要理念。它是一种会产生独立于作者意愿的效果的创作模式。此装置运用这概念于选择影片的过程。观众需利用此操作器,并靠其机遇性去选择播放XEX的互动影片。整个经验就像参予一场即兴的电影院的表演。
Chance Operation is an important idea in the art movement of Fluxus. It is a method of generating output independent of the author's will. The installation is a ping-ball machine entitled "Chance Operator", applying the Chance mechanic to the video selection process. In other words, the operator is by chance to play with a series of XEX interactive video. This whole experience would be similar to performing in a random cinema.



InstaCloudLight
—— XCEED & Sticyline

云彩的变动是魔幻时刻中最动人的地方。呼应展览的主题DynamiCity,InstaCloudLight是一个以云形状建构的互动光雕塑。每个云形状的灯笼罩内具有连接网络的全彩LED点矩阵。色彩取码自Instagram已打井标记的照片。每个灯罩是由半透明纸卡去制造,多角形的折纸结构令灯罩更容易折迭及堆砌成大型的装置。请用#instacloudlight及#hkszdesignbiennale在instagram去标记你的照片,留意云灯的颜色变化。
Every changing colorway is the most beautiful part of the magic hour. Echoing the theme of exhibition DynamiCity, InstaCloudLight is an interactive light sculpture with "cloud-shaped" lanterns bonding together. Each lantern module is equipped with networked LED matrix; the changes of the color code are based on the hashed photo from Instagram. Translucent paper card is engineered for the lantern module, polygonal origami structure that makes it easy to fold and join together to form a giant installation.
Please Hashtag your photo with #instacloudlight and #hkszdesignbiennale in instagram. Be patient to watch its color changes for the cloud light.



DynamiCity GenType
—— XCEED
The Generative typography motion wall is to visualize the urban dynamics in between 2 cities, Shenzhen and Hong Kong. Each letter is generated from the specific urban data form 2012 to 2014. The generative forms of type are following different mathematics algorithms. The dataset are as the following:
D - Density of the population
Y - Yearly growth rate of the economics
N - Net income
A - Age (Median group)
M - Modernization of the cities
I - Infrastructure
C - Climate (rainfall measurements)
I - Immigration
T - Traffic (the ratio of the self-own vehicles)
Y - Yearly inflation rate of the economics

DynamiCity GenType 互动墙将香港及深圳之间的城市动态视像化。每个字母均由2012至2014中不同都市数据衍生,每个字母的字形也是根据不同的数学演算而成。数据集如下:
D - 人口密度
Y - 经济年增长率
N - 净收益
A - 年龄(中位数)
M - 城市现代化
I - 基础设施
C - 气候(降雨测量)
I - 入境
T – 交通流量(私家车辆的比率)
Y - 经济年通胀率



Nonlinear Sequencer
—— Tobias Gremmler

Nonlinear Sequencer 是一个视听的互动装置。转化身体的姿势为可视化的声音结集,参加者四周的空间成为乐谱。每个动作触动每个音符,将线性的乐谱转变为动态的结构。
'Nonlinear Sequencer' is an interactive audiovisual installation. It transforms body gestures into a visualized sound cluster. The space that surrounds the user (dancer or exhibition visitor) turns into a musical score. Each movement affects the arrangement score. The installation dissolves the linearity of a musical score into a dynamic structure, shaped by body gestures and movements.



Stickyline
从虚构的面到实在的体
Stickyline由Mic Leong及Soilworm Lai组成。 创作游走于平面与立体之间,解构及重整。 作品以平面的纸张为基础,透过折与迭的方法,制作出环保而且实用的器物/产品。合作企划夸越多个平台,目前主要项目为装置艺术、舞台制作、橱窗设计、灯饰、服装配饰等。 并透过不同的企划、方案,探讨及体现社会的现象。
Stickyline design transforms two dimensional planes into three dimensional forms. Deconstruction and reconstruction.
Stickyline's designers start with papers. By folding and creasing them, we produce eco-friendly and practical products, eg. fashion accessory, lighting and toys. Their creations cross fields and can be seen as installation art, stage design and window displays.
Stickyline was founded in 2011 by Mic Leong & Soilworm Lai.



Screening Room
放映室

新媒体及科技展的放映室结集了不同香港的新媒体创意公司及团体的作品集,当中包括有430、cccdi ltd.、Input/Output、Visionaries 777 Ltd.、Tobias Gremmler's Students Works。观众可透过作品影片集观赏他们各自不同新媒体及创新互动科技的项目。
The screening room in New Media & Tech Exhibition collects different show reels of Hong Kong new media and creative company and group, including 430, cccdi ltd., Input/Output, Visionaries 777 Ltd., and Tobias Gremmler's Students Works. Audience can view different new media and innovative and interactive projects through the showcase of exhibition.

深圳:
Light Interactive fashion show
湖南大学媒体实验室(深圳)
—— by Shenzhen Media Lab


请双手合十,向表演者鞠躬,即可看到湖南传统剧目。

Mind Catcher
——by Predrag Nikolic
想象一下当大脑中的思维导图反映到肢体上是什么体验,这款MindCatcher可以让参与者领略到其中的魅力。



Ciklosol Interactive Installation
——by Predrag Nikolic
这是一款基于绿色能源概念的设计,当体验着脚踏自行车骑行时,产生的能量可以使前方的节能灯发亮并摇摆。


作者:韩家英
作品名称:字象乾坤
汉字是人类文明中最古老的文字之一,从仓颉造字的古老传说,到甲骨文、金文、篆书、隶书、楷书,汉字以其古老而神秘的力量,传承中国千年文化,传播东方文明,历经沧桑而亘古弥新。正如符号论美学家卡西尔所认为的"艺术可以被定义为一种符号语言",汉字作为记录语言、承载文化的符号,本身就是一种极致的艺术。这种艺术超越了视觉的形式美,沉淀了思想的智慧,成为一门哲学般玄奥的美学。我们尝试着用设计的基本元素"点、线、面",结合中国的《道德经》、《易经》、《菩提偈》三大古老哲学中的精粹典着,探索汉字字体设计的可能性,释放汉字的美学魅力,以平面设计的艺术向汉字以及中国哲学致敬。